On March 10, 2009, a poetic evening with Alexander Korotko called "Silent Songs" was held in Jewish Cultural Center in Bolshaya Nikitskaya Street. Rare public events with Alexander Korotko in Moscow are an invitation to paradoxical and whirlpool world of higher concepts expressed by profound and precise words. The poet was introduced by Vitaly Korotich, journalist and writer, and Vadim Rabinovich, poet and philosopher, and Yossi Tavor, first secretary of Israel Embassy in Russia. Among the guests were central figures of culture and art, Moscow intellectuals, journalists. The poems were recited by Alexander Korotko himself and by Sergey Yursky, People's Artist of Russia, who was a special guest of the evening.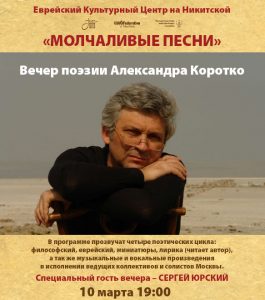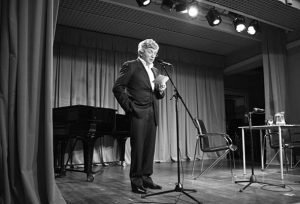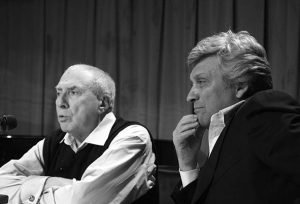 Sergey Yursky: "It's hard to come upon the stage. The stage directs to a performance, to harmonization of sound and movements… For Alexander Korotko I am a guest today. But on the other hand I am a host, as one of my professions is to recite poems. I know that it is very hard. There were the times when poetry was dazzling, when rhymes made everyone think. Nowadays everything's different. Ever since the time of Reconstruction, lots of lies have been told, so everyone started disdaining the language. In particular, Moscow auditoriums, which always were shelters of literature, altered their repertoires. Radio programs devoted to comedy, lyrics, poetry, which always existed in the Soviet time, are totally gone now. Now the time is pierced by music, endlessly bad at most, which destroys the "word". That is why performing the "word" on stage today is a big risk for Alexander. Our cooperation with Alexander started long ago. Together with my close friends we recorded discs with poems by Yesenin, Mayakovsky, Pasternak, Mandelstam, the next poet to have appeared in our list was Korotko. This is when I got acquainted with his poetry for the first time. The poems were numerous, and among them there were so many flashes of unexpected, that I got interested in them. Korotko is unstoppable in his creative work! This is a real poetry." * * * Life is a clumsy fairy-tale, altercations of nights in a sharedapartment of love and a sleepless escape to a valley of the worried kingdom, where the innocent stream is ringing, lost because of the boredom. On the sideof the draw, at the edge of the luck and happiness, next door to the high trouble, the herd of distracted clouds is running over on the eve of separation and is heartlessly trampling a tipsy from fear, soaring above the prosaic sunbeam. There is no equality, a mystery is hiding behind the curtain of whimsy, don'ttry to find it, it will be met by chance in the bustle of cities. Don't look for friends, Colosseum of loneliness is rising on the edge of your years. And the eternity Is humbly blowing with coolness, and a forgotten time, a winglessangel, is compressing the remains of sanity into a fist, and a frantic power is coming down to the Earth, a mystic sign of our death. * * * The unpredictable shadow, why do you drive me out of my senses, why does the grey-headed night meets a new day on the aged roof of heaven, why do the rains have fun in the temple, why do they sing a yearning, why is your skimpy light scattered between the rows, whyhave you been talking to us with tired eyes for the last five thousand years? * * * The grief will come to you again, a charm of soul, as soon as you step on the threshold of unremembered sunny backwoods. Over the guilty country your farewell silhouette will twinkle, and a coldness of night behind the back will arise as a sad interval just for a brief moment. Invisible face of prediction – the essence of homecoming, where a crying of the heart breaks off and the Seventh Day rejoices.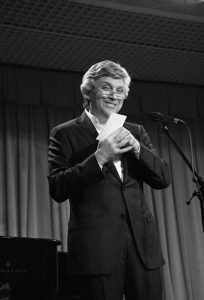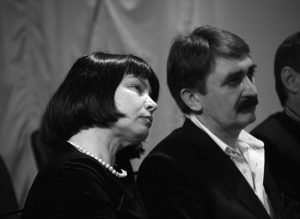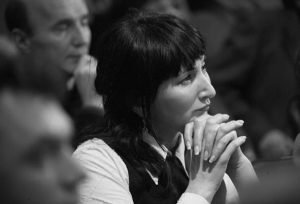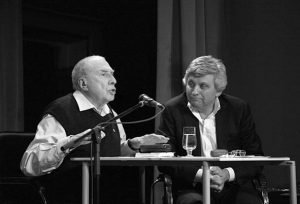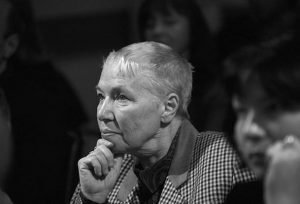 Extract from a press-release: "Alexander Korotko – is one of the brightest and inconceivable personalities in the modern Russian-language poetry. He holds a completely specific place among creative and spiritual elite not only of Russian, Jewish and Ukranian cultures he belongs to directly. His words are getting louder in other countries of the world. This is not a coincidence today. The general line effect, i.e. promoting negative emotions, national enmity, artificial contradictions, imposed by ambitious politicians, are so horrible, that uniting role of words, a sort of spiritual message, is important as never before. The size of Alexander Korotko's personality does not let us define his specific direction or genre, determine this man expressly. He can not be limited with conventional frames as he combines seemingly incompatible things. The creative work by Alexander Korotko is a peculiar humanistic system, which bases on poetry and includes philosophy, religion, music, art, theatre, all together being a harmonious architectonics of spiritual and ideological concepts".