The book of poems with paradoxical title "The Plaudits of Death Hands" was published in Kiev in 1998. The poems were unusually concentrated with ideas and were written in an innovative manner. Hence it was desirable to place illustrations in various section of the book that would become its integral part due to their difference from traditional book graphics. That was how illustrations by Viktor Babanin appeared in this book.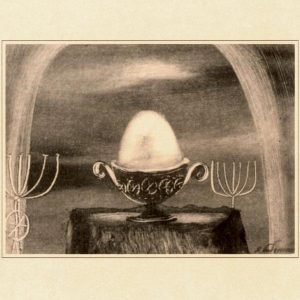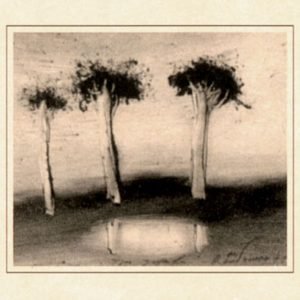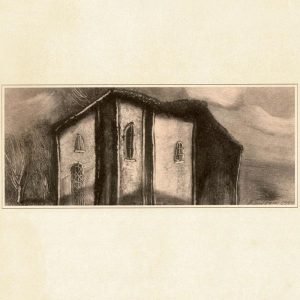 ***
Where to hurry, when nobody waits,
when everywhere only parting,
when the serf of minutes makes a noise,
when all the rustlings and sounds
rise from the depths of summer.
A sad trial of memories,
oddities of autumn, an oblivion,
unrecognizable shelter,
cold alien shadows
don't leave the heart.
And the sky in the rags of stray clouds
keeps such a sorrow inside,
and in the mirror of a huge soul
the sunset is burning in despair.
In the outskirt of sunshine,
by gossiping of poultry flocks,
we are coming back from the summer
to our boring but customary Paradise.

1994
***
Clapping of dead hands,
adagio of windless butterflies.
From places, where you are now,
it's hard to serve. Forgive,
so far from each other we haven't
been so long. Grimaces of the day,
a painful fright of mute
memories in concert disturbs
the silence of others' partings. Foyer
in a shabby coat touches the final
with its shoulder, and a silhouette
of your discreet phrases talks
with friends about nothing,
but it's only a foreplay to that
empty room, where without words
the night is huddling to. I hesitate.
Each step on the road leads
to you, and nobody can help.

1996
In 2009, ten years after "The Plaudits of Death Hands" were published, Alexander Korotko wrote a poem "Graphics" about artists, whose creative destiny was as uneasy as their masterful works. In some degree it was addressed to Viktor Babanin.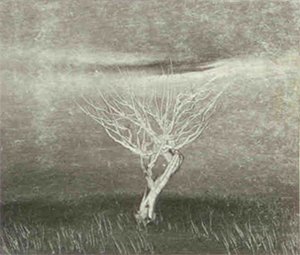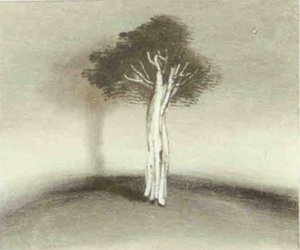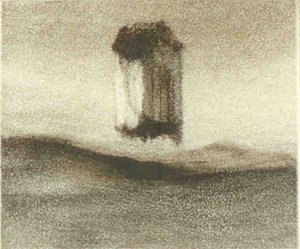 GRAPHICS
Why to consider and to wait for the tide torn by the time
of imagination. Here all looks microscopically, and rights
are protected for greediness long ago. On the heartless
horizon fallen on its back, a mysterious reality is lying as
a photocopy of the artist's denouncement for his own
sadness. I knew few people. Salvation came for some of
them long before the unpainted pictures, others were
waiting for being betrayed, in order not to be an eyesore
of successful ones in public places. Artist in the graphic
arts is a coordinate axis: vertical – Kafka's shadow, in the horizontal plane – a parting of love, and the starting point
is zero, such an unnecessary bun, looks like the sun, but
only perhaps black color. Contrary to all expectations, fearlessness from heaven flows down the drainpipes of
colorless rains. At the garbage dump of dirt love there are warlocks and crows, graphic story without wars and military leaders, only pain and skinny sleep from Dürer's nappy
inherited estates. Brush sticks out of the jar like a bobber,
no biting today, pictures cut a passé-partout of their own
soul. And those who are eager to understand are less
and less. At the threshold, without doors, ordinariness of indomitable leaders threatens with a slobbery finger. You
can't draw a dream. Artist's tiredness can be hacked by
hard drinking, by quietness, but not for long. In the mute apartment greedy graphics is more arrogant than his unlived stories. Miserable wandering of memories like in a mirror monoprinting, is standing, hunched, on the thin legs of being. Concentration and anger are walking around naked. Flea
market of details, abandoned details, the plot of vast
emptiness. How to survive the day, the artist knows, and
then – a deadlock. To hide in the corner of darkness
and along the thaw holes of fate, along these shipping
rivers, to swim to the shores of childhood, but unfortunately
all the paper boats of dawn are anchored to expectations.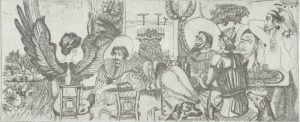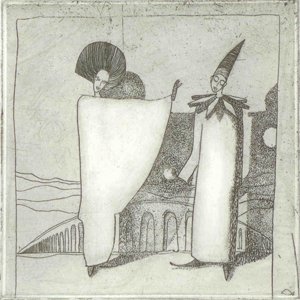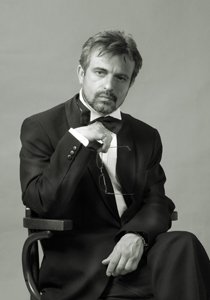 Viktor Babanin was born in 1963 in Crimea. He was a gifted artist, his active creative life began in the beginning of the 80s. Viktor Babanin graduated from Samokish Art School in Simferopol. The painter has an excellent command of brush and nib, while his favorite genre was graphics, including drawing, watercolor, etching and monotyping – an impress, made in a single copy, single piece of art. As a monotypist he links his skills of a graphic artist with peculiar technique of creating reversed images at a plate and transferring it onto paper with the help of an etching press.
Viktor Babanin is a member of the Union of Designers of Ukraine, member of the Crimean Partnership of Modern Art, an honorary member of Academy of Arts in Heidelberg. His solo exhibitions were held in Ukraine, Russia, Lithuania, Germany, Italy, Switzerland, Canada and other states. He initiated and took part in joint art exhibitions, festivals, contest, humanitarian acts and social projects. His works are exhibited at museums and decorate civic centers and government institutions, they are also owned by private collectors. Some of his works were bought for Vatican collection.
As he illustrated books (over thirty books) and literary magazines he was admitted to membership in the Union of Writers. The first two books illustrated by him were "The Island of Crimea", the novel by Vassily Aksenov (1993), and "The Plaudits of Death Hands" (1998), the book of poems by Alxander Korotko. Both of them are bibliographical rarities today.